Novosibirsk Chamber Orchestra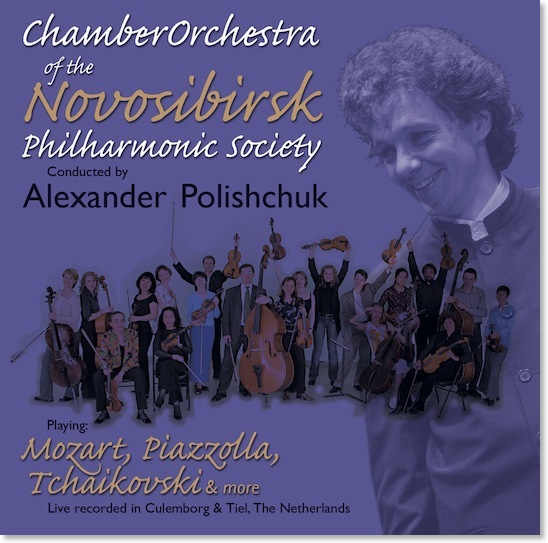 Composer: Various

Performers:
CHAMBER ORCHESTRA OF THE NOVOSIBIRSK PHILHARMONIC SOCIETY, Conducted by Alexander Polishchuk
Duration: 72'33
Catalogue: PP 2018
Live recorded in Culemborg & Tiel, The Netherlands Eine Kleine Nachtmusik, KV 525,W.A. Mozart
Allegro 05:23
Romanze, Andante 05:22
Menuetto 01:52
Allegro 03:37
Tango Ballet, A. Piazzolla (soloist Fedor Kabelsky, violin) 11:21
Skylark, G. Dinicu 03:19
Serenade for strings, opus 48, P.I Tchaikovski
1. Pezzo in forma di sonatina: Andante non troppo 10:25
2. Walzer: Moderato (Tempo di valse) 03:43
3. Elegie: Larghetto elegiaco 08:23
4. Finale (Tema russo): Andante - Allegro con spirito 07:45
Extraits from Carmen-Suite, Schredin/Bizet 05:22
Hungarian Dance 5, J. Brahms 02:38
Fiddle-Faddle, L. Anderson 03:15
Total playing time: 72:33 DDD


Produced by: Van Veen Productions
Executive Producer: Jeroen Van Veen
Mastering: Piano Mania
Recorded on ADAT, 6 tracks on 24 bit, 48 KHz.
Software: Pro Tools & Samplitude
Recording location & date:
-Track 1-12:Grote of Barbara church, Culemborg, the Netherlands on August 21, 2005
-Track 13-14: St. Maartens church, Tiel, the Netherlands on August 23, 2005
Design: Jasper Bax www.vanveenproductions.com
info@vanveenproductions.com
Idea & production: Stichting CuCu (Mark van Dooren, Bram van Schaik, Jeroen van Veen).